The round 4 Craft Beer Fight Club showdown was massive before it began. With a completely sold out crown rammed into the cocktail bar, it was cosy, rowdy and of course, beery. The vibes were merry and the banter was plenty.
After a last minute mishap, with Feral Brewing Company having to pull out of the East Coast v. West Coast battle, Round 4 turned into an insestuous 3 way between Sydney small batch breweries Batch Brewing Co., Pixel Brewing Co. & Shenanigans Brewing Antics.
Batch Brewing Co., new kids on the block from Marrickville, put up a solid fight with their two brews. The American Pale Ale (5.2%) left behind a clean, dry flavour, while their use of pumpkin and a compliment of freshly cracked spices in the Harvest Brown Ale (5.1%) excited the tastebuds of many beer nerds.
Shenanigans threw a few big punches with The Winston (5.6%), a modestly bitter pale ale, with bucket loads of Kiwi, US and Australian hops bursting from the glass.
The winner by knock out was Pixel Brewing Co. – Sydney based gypsy brewing company who produce American style craft beers brewed in seriously small batches. Their 480P American Pale Ale (4.8%) proved a crowd favourite with it's winning combination of tropical fruit & citrus aromas and small amounts of German Munich and English Crystal malts. If you haven't yet tried it's sweet, tropical flavours, it's on tap all this month at Dove & Olive.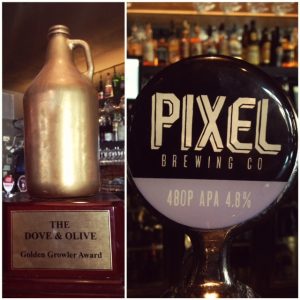 The other battle of the night (one much less honourable) was the Beer Label Competition. Punters crafted gypsy (and genitalia) inspired labels for the chance to win a double pass to the next Craft Beer Fight Club. We had many good laughs looking at the smut depicted, with gypsy penis wagons, gypsy beer brewed with horse, and gypsy balls. Dishonourable mentions have been made on our Facebook, with one of the winners announced on the night.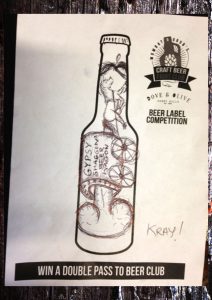 All in all, a packed out battle with some truly tasty beers. See you at the next round of beery awesomeness!